Utility software
---
awksed | Bazound | DDF2Html | DrawComb | Films | FirePipe | FireToImp | GnuPG wimp | Grab 2 | Infozip | MBBack | NewAlarm | ScreenGrabber | SideDiff | StripStyle | StylePick | Switch | Tabbit | Textseek | Typer | Uptime | WimpDrain | XUTime
---
This software is designed for computers running RISC OS. The title and icon of each program are linked to the relevant Zip archive for download. On RISC OS computers Zip archives may be opened using SparkPlug, SparkFS (commercial) or Infozip. You can see full-size versions of some of the screen shots by clicking on the thumbnail images.
---
Description
This program provides a WIMP interface to the GNU command-line utilities sed and awk. Awk is a data-driven programming language, the basic function of which is to search files for lines (or other units of text) that contain certain patterns. Sed (Stream EDitor) is an earlier UNIX utility for parsing text files and applying textual transformations to a sequential stream of data.
Author
Latest version
1.36b (13th July 2007)
Changes since last release
Recompressed !RunImage with different options after discovering a compression-related bug in the output redirection code. No changes to functionality.
Additional support materials

Awk look-up manual in StrongHelp format.


Awk mode file for StrongED.


Download a package with all awk utils.
---
(Requires Toolbox modules.)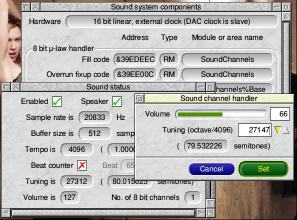 Description
Bazound is a small configuration and diagnostic utility for the RISC OS sound system. It may be useful to programmers writing sound software, and in situations where programs have left the sound system in an indeterminate state. It was written using AppBasic, a new programming aid that simplifies the task of writing Toolbox applications in BASIC.
Author
Latest version
0.34 (7th October 2007)
Changes since last release
Modified for compatibility with version 3.02β of AppBasic (with a few minor tweaks).
Fixed a bug where the definition of PROCbroadcast_claim was terminated by ENDIF rather than ENDPROC. I can hardly believe this didn't cause noticeable problems before (presumably because the following procedure in the compressed !RunImage was relatively benign).
---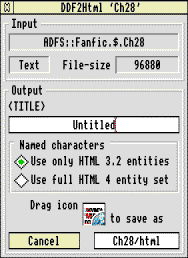 Description
DDF2Html is a program to make it easy to convert Impression documents into HTML format, either for use as web pages or simply in order to send them to PC-owning friends. Simply use the 'Save text with styles' option from within Impression and run the resulting output through DDF2Html to translate Impression styles/effects into HTML mark-up.
Can also process plain text files into valid HTML, and substitute entities for non-ASCII characters in existing HTML files.
Author
John Alldred & Harriet Bazley (current maintainer)
Latest version
1.59 (16th April 2020)
Changes since last release
Tweaked 'Link' style to recognise https: as a link.
---
Description
You may not think a program to combine the contents of two Draw files very useful, but it has one major advantage - it preserves the coordinates. Dragging a file into a Draw window will load it at the mouse pointer position.
This is especially annoying when combining Spirograph patterns, which do not fit onto a grid of any sort, but which are always drawn at the same position. Although it may have other uses, this program is principally an add-on for Cogs to allow multiple patterns to be drawn on top of each other.
Author
Latest version
1.01 (14th March 2009)
Changes since last release
If the save box is open, clicking on the icon bar will bring it to the front.
The save box now opens at a constant position above DrawComb's icon, rather than chasing the pointer.
Added interactive help.
Doesn't mess up the entire drawing bounding box any more.
Vast improvements to font table writing, which should now work under almost any circumstances.
'Future proofed' object type checking - I don't think there ever will be an object with a number greater than 255 (much less one I care about), but it's neater anyway.
Corrected various aspects of the Data Transfer Protocol. Notably, finally fixed dragging to the icon bar!
Can remove one loaded drawfile without having to load another.
Can now save to itself - more useful than it sounds, actually...
Cleans up properly before quitting.
Now uses a acceptable message list and poll mask.
Moved version string, menus, errors and interactive help into a Messages file.
---
(Notes: requires ArmSort by Martin Avison.)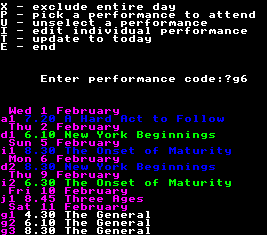 Description
This is a basic timetabling program to make it easier to decide which conflicting performances of which films to attend. Once data on available performances has been entered, the program can display an interactive timetable on the screen, showing the knock-on effects of selecting a given performance in terms of the films with which it clashes. Dates on which you have prior commitments can be eliminated from consideration altogether. As you narrow down the possibilities, any films for which there is only one possible performance remaining will be highlighted in red, and a warning will be given for any which cannot be fitted into the timetable at all.
Author
Latest version
1.25 (3rd March 2011)
Changes since last release
Fixed bug whereby doing a 'T' catch-up would *always* exclude the first entry if the current day happened to be the first day for which performances were available. In the process, refined the catch-up routine so that it now takes into account the current time as well as date and will exclude all ineligible films for today's date ('ineligible' defined as 'starting at any time up to the next hour', rather than bothering with precise intervals, e.g. at 19.07 all films up to 20.00 will be excluded).
Altered 'cheap' flag to reflect new ticket pricing, namely matinee reductions on early afternoon films only.
Slight tweak to force the !Films.Output directory to be displayed in date order on return to the desktop, i.e. with the output file you just saved listed first. This does not affect the computer's configured default Filer display options.
Entering times is now done via LINE INPUT instead of INPUT, meaning that the statement in the manual that *any* separator (e.g. "18-10") may be used is now literally true, including for commas....
---
Description
Firepipe converts files from Fireworkz format into PipeDream 4 format. Fireworkz can load in PipeDream files, but hitherto there has been no easy way to convert files in the opposite direction.
Author
Latest version
2.01 (17th January 2003) CJB
Changes since last release
---
Description
FireToImp is a Fireworkz to Impression file converter. FireToImp was not designed to convert spreadsheet-type files into Impression tables. It will not do so. In fact, it will only convert the first column of a Fireworkz document, so if the first column of your spreadsheet is blank, you will get a completely empty Impression document.
Author
Latest version
1.31 (7th November 2003)
Changes since last release
Blank rows are no longer silently removed but finally appear in corresponding output file!
Now understands 'wholerow' area selection (and thus is able to translate styles applied to areas selected by dragging over row markers)
No longer interprets vertical justify settings in style definition as horizontal left-justification(!)
---
Description
The GNU Privacy Guard allows you to encrypt and sign your data and communication, features a versatile key managment system as well as access modules for all kind of public key directories.
Harriet needed a WIMP front-end for Stefan Bellon's port of GnuPG to RISC OS and ended up reverse-engineering one of the ancient front-ends to PGP 2.x, PGPwimp by Peter Gaunt. The !RunImage was compressed BASIC, and the original source code had long since been lost. Fortunately, compressed BASIC programs retain their original structure, and it was possible to locate and reconstruct the necessary bits.
Peter gave his permission to distribute this version since his Risc PC is now broken - provided that he is given full credit.
Author
Peter Gaunt & Harriet Bazley
Latest version
1.01 (19th September 2007)
---
(Requires Toolbox modules.)
Description
| | |
| --- | --- |
| | |
| Ye Olde Grab. | Spangly new Toolbox version. |
Once upon a time there was a program called "Grab", which allowed the contents of the Wimp sprite pool (ROM or RAM areas) to be saved as a sprite file. This was written by David Thomas way back in 1992, and hence is now looking very dated:
The text icons are too narrow for anything but system font, it insists on using blocky RISC OS 2 vintage window sprites, and its distinctly non-style-guide user interface is conjured up by the weird and ancient InterfaceManager module.
So, I nicked the application sprites and in a few hours wrote this replacement, partly to prove how easy it is to knock together applications using Acorn's Toolbox system but also because once too often I had tried to drag sprites from the old Grab straight into Paint, forgetting that was beyond its capabilities.
Improvements:
The current window tool icon set may also be grabbed.
Interactive help.
Direct data transfer to other applications.
Style-guide compliant user interface.
Support for international resources (just translate messages).
Doesn't rely on weird and ancient InterfaceManager module.
Many thanks to Dave Thomas for his permission to use the "Grab" name, concept and application icons.
Author
Latest version
1.19 (24 Sep 2015)
Changes since last release
Fixed a bug where tool sprites were saved in an invalid sprite file with an extra word of data at the end. The correct data size cannot be obtained by subtracting the offset to the first sprite from the offset to the first free word, as in a normal sprite area. Earlier versions of Grab II incorporated a fudge factor to solve that problem but 1.18 did not and was therefore broken.
SYS "OS_SpriteOp",12 is no longer used to save any of the window manager's sprite areas because they are too esoteric. In particular, RISC OS 6 has zero-named sprites in its Wimp sprite pool and its tool sprite area's header is at a higher address than the rest of the data.
---
(Note: requires APCS-32 supporting C library)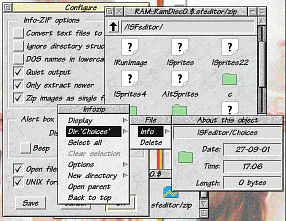 Description
A desktop front-end for the Info-ZIP command line routines. The contents of a zip file are displayed in a similar way to a RISC OS Filer window, and files may be added or extracted using drag and drop. This is a good alternative to SparkPlug because it allows you to create as well as extract from zip files. Also, Infozip multi-tasks smoothly allowing zipping and unzipping without disruption.
The full distribution archive contains the Info-ZIP routines (currently Zip 3.0 and Unzip 6.00), so that the application is ready to run "out of the box". These are also made available to command line users via Run$Path.
Alternatively, you can download a much smaller archive containing the front-end application only. This is suitable for those upgrading from previous versions, or those who already have the Info-ZIP command line routines from another source.
If you do not already have a de-archiving program capable of handling Zip files, then you can download Infozip as a self-extracting archive: Just set the filetype of 'infozipsea/bin' to 'Absolute' (&FF8) and double-click on the file. Alternatively, there is a a self-extracting version of SparkPlug available on David Pilling's web site.
Front-end author
Latest front-end version
3.07 (24th July 2012)
Changes since last release
Now distributed with ARMv6/v7 compatible versions of the back-end programs, so should now work on the BeagleBoard and Raspberry Pi. (Thanks to Chris Gransden and Jeffrey Lee.)
Fixed "Illegal window handle" error on RISC OS 5 when changing screen mode or desktop font.
Defines zip and unzip aliases which allows the WimpSlot of the back-end programs to be set prior to running. Apparently it was previously dependent on the user's Next slot!
No longer relies on presence of system variables to detect if there is a copy already running. This solves the old problem of Infozip becoming confused after a crash - as a consequence, the 'Really load new copy?' option to override the duplicate detection no longer exists.
Corrected mistake in !Boot file which prevented Infozip from loading an archive which was double-clicked when it wasn't already running.
Setting the display time for the alertbox window to zero will now allow you to suppress the 'Finished zipping' messages altogether.
Doesn't insist on claiming the &DDC filetype any more.
---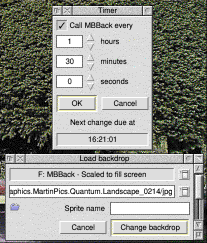 Description
Yet another random backdrop chooser program to pick from the myriad selection on the Internet. What makes this one unique? Well, the headline features are:
A user-editable script file containing a list of backdrops, automatically filtered for any errors or invalid filetypes. Contains a lot of advanced features designed to minimise the amount of work and maintenance you have to do, but simple to get started with.
A 'compiled' version of this list, from which lines are (by default) removed after selection by the backdrop-choosing part. This means the same backdrop is never chosen twice until all backdrops have been exhausted.
Built-in sprite scaling functions, capable of reducing (or enlarging) images to fit on the screen without the distortion associated with the Pinboard's 'Scaled' option.
Facility to automatically recalculate the current backdrop when the screen mode changes.
Full ImageFileConvert support, optionally copying each file to a sprite, hence allowing for a dramatic speedup in old versions of the Pinboard.
Comes with an application to automatically call MBBack every so often, if you get bored of backdrops that stay the same.
Optional ChangeFSI support for better image quality.
Can select any sprite for display from within a sprite file, not just the first one.
Internal routines (e.g. the scaling functions) can be called for any image you choose, not just a random one from a list.
Can fetch images from the Internet via Wget.
Author
Latest version
2.11 (25th September 2013)
Changes since last release
MBBBoot no longer requires WaitUntil - the somewhat trivial task it was being used for is now handled internally.
Fixed bug which could cause an 'Outside file' error on certain source files, primarily those which were one line long with no newline at the end.
Assorted fixes and improvements enabling the program to work with the latest port of wget, which requires more memory and has incompatible logging behaviour. Various bits of code made more robust and less shonky as a bonus. In particular, wget is now (hopefully) guaranteed enough memory to start up, and MBBack copes more gracefully with unwritten log files.
---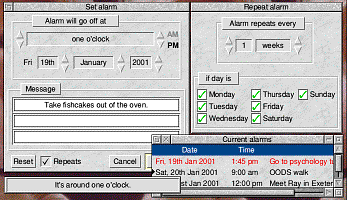 Description
Desktop clock which tells the time and handles alarms in a vague text-based manner rather than with digital precision. This program is basically an amalgam of the best features of Acorn's Alarm and Doggysoft's RoughTime.
Author
Latest version
1.38 (9th December 2005)
Recent changes
1.37
Moved all command-line options out from !Run file into a NewAlarm$Options system variable as per Edit$Options, etc. This avoids the need to edit the !Run file to maintain non-default options every time a new version is released!
Added a new option, by request: "-nowindow", which suppresses the opening of the alarm display on startup.
Added Castle's "NewAlarm$Title" etc. info system variables. Split History off into a separate file and moved all help files into subdirectory. Added a dummy HTML file to satisfy Castle.
1.38
Added special behaviour for ADJUST-clicks on 'OK'/'Cancel' icons as per Style Guide. Edit window now remains open after function (i.e. create alarm/discard changed alarm data) has been carried out. (ADJUST-click on 'Cancel' while creating a new alarm equals 'Reset' and is explicitly mapped to this icon!)
Updated !NewAlarm.Generator file to work with alarm files stored in Choices$Write as well as those stored inside the !NewAlarm application.
---
(Requires Toolbox modules.)
Description
One day I finally got bored of searching for a program that would perform that most basic of tasks - taking a picture of the screen. So, I wrote my own.
ScreenGrabber is the name of a relocatable module that allows you to take multiple pictures of the screen display, even when you are running a single-tasking application (such as a game or graphical demo). The screen display is saved as a Sprite file, optionally with the current palette. The snapshots are numbered, so you can take as many as you like without overwriting the previous picture.
A desktop front-end application allows easy configuration of settings such as whether the 'hot' key is enabled, the current save location and base filename, and whether or not to include the palette.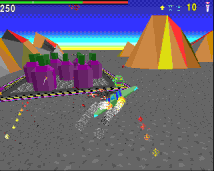 If you have more hard disc space than sense, then making animations is fun. Continuous recording can be synchronised automatically with screenbuffer swaps, or with a fixed delay period between frames. You can then convert the numbered screenshots into an animated GIF using Peter Hartley's InterGif.
Author
Latest version
2.26 (04 Mar 2012)
Changes since last release
Fixed a minor bug in *SGrabConfigure where any two of the arguments [-Interval <centiseconds>|-AutoSync|-HalfSync] were accepted instead of generating an error.
Made the star command handler more data-driven. Consequently the module is 2.56% (456 bytes) larger.
Removed references to the bigfoot internet domain and added a web button to the 'About this program' window.
---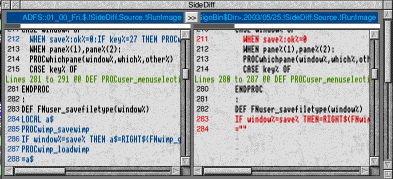 Description
SideDiff acts as a desktop interface to the GNU diff utility, allowing you to view the differences between two text or BASIC files in the form of a scrolling side-by-side display.
The program can create and/or render 'unified' output from GNU diff into two panes in a desktop window. The filenames of the two files that were compared are shown above the relevant display panes, followed by a coloured listing of the 'chunks' of data where differences between the two files were found.
Author
Latest version
2.44 (5th September 2005)
Changes since last release
Return to old behaviour: program no longer gives an error if passed a non-diff file via the command-line interface but displays its contents instead, on the assumption that it is probably an error report from diff (e.g. files were identical/binary format)
Fixed issues affecting A9Home machines.
Saved diffs of BASIC files can now be used to apply changes after reloading, just as other diffs can.
---
Description
This program is of use only to users of Impression Publisher (or Style) or Impression II. It is designed to remove the style definitions from the head of a document saved in Computer Concepts' 'DDF format' -- that is, one saved as text 'with styles' so that italics, headings etc will be preserved when it is dropped back into an Impression document.
Example uses: Removing unnecessary style definitions, collating chapters of a document which all conform to a 'house style' and therefore do not need individual style definitions.
Author
Latest version
2.36 (4th January 2005)
Changes since last release
Fixed little bug which caused the program to hang up at the start of the first file processed.
Combined old 'Help' and 'Readme' files.
Removed dependence on IfThereIs.
Now provides interactive menu help as well as help on windows.
Added 'Help' entry to main menu in accordance with Castle's very sensible guidelines.
Increased height of icons in the info window to make them more readable in 3D format.
---
Description
A program to allow the user to import a sub-set of the styles contained in one Impression document into another such document. In Impression it is possible to 'import' an entire set of styles from another document, however it is not possible to import only one or two of them.
StylePick offers you a list of available styles so that you may choose which ones you wish to use, and compiles a new file containing only this information, which may then be dropped onto an Impression window.
Author
Latest version
1.01 (12th June 2000)
Changes since last release
Corrected bug affecting last style definition in file.
---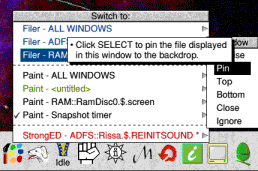 Description
This is a program that lists all open windows and allows the user to switch between them. Other actions supported include iconising the window, pinning it (if it is a file/directory), closing it, or sending it to the bottom of the window stack.
Clicking SELECT on the iconbar icon will display a menu of the titles of all the windows open on the desktop, sorted according to the task to which they belong. Clicking on the entry for a window title in this menu will bring that window to the top. The window currently at the front of the stack is ticked.
Author
Nick Craig-Wood & Harriet Bazley
Latest version
1.58 (29th May 2003) CJB
Changes since last release
Minor fix: window title transmitted with Message_Iconize is now zero terminated rather than CR terminated. The old behaviour didn't bother the pinboard, but showed up in WimpMonitor and was probably wrong.
---
Description
This utility was written for a specific purpose and will only rarely be used. It performs the opposite of the 'Expand tabs' command in Edit - it removes multiple spaces and replaces them by tab characters where possible.
Author
Latest version
1.21 (10th August 1998)
---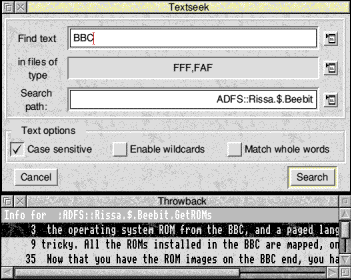 Description
Textseek is a WIMP front-end to a fast machine-code file search routine. It uses throwback to display the search results, showing a whole line of text as context for each match. Entire directory structures may be searched recursively.
Reasons to use Textseek for searching files rather than other similar programs (such as FileFind):
Context for each match allows many matches to be eliminated at a glance.
Counts the lines properly in all files whatever their line-ending type.
Doesn't crash the throwback handler by passing it strings containing control characters.
Detokenises BASIC before searching it.
Allows you to specify a whole range of file types to be searched instead of just one.
When searching BASIC files, supports both throwback to BASIC line numbers (for Zap), or throwback to physical line numbers (for StrongED).
Will search a single file, and accepts objects dragged to the application icon.
What it isn't: Textseek isn't a "file finder". It is designed for searching file contents, not for finding files of a particular type, date stamp or name.
Author
Latest version
1.48 (5th September 2015)
Changes since last release
Removed unused code in PROCmakemenu generating array of pointers for use by OS_HeapSort (OS_HeapSort does this automatically).
Patched filetype menu routines to cope with case of filetype name having been set to a blank string.
---
Description
Takes a text file as input and, when prompted, sends the contents directly to the keyboard buffer, in effect producing exactly the same result as if you had manually typed in the file's entire contents at the current position of the caret.
This has two main uses:
Large-scale transfer of text to applications which do not support the global clipboard (e.g. Firefox).
A 'form filler' of sorts for dialogue boxes, taking advantage of the fact that inserting a Tab keypress moves the caret to the next writable icon. It can also blank each field automatically before typing into it.
NB: Not to be confused with Type.
Author
Latest version
1.03 (23rd January 2011)
Recent changes
1.01
Ensure all necessary Toolbox modules are loaded correctly.
1.02
Fixed bug affecting loading files dragged from a directory display (as opposed to from an application).
Now detects if a scrap file exists on startup, and if so, uses that by default. This preserves data between quits/resets.
Corrected erroneous note about quitting - turned out I had thought to fix it after all.
1.03
Now inserts only CR, instead of LF+CR, at a newline.
Fixed issues with multi-character newlines (e.g. Windows text files).
---
Description
A very small (trivial?) utility that displays the time in days, hours and minutes since your computer was last turned on or reset. Having installed it in a directory on your Run$Path (typically $.!Boot.Library), you can then type "uptime" at the command line prompt for a response like this:

Six years later, Martin incorporated my code into a desktop application that you may find more palatable.
Author
Latest release
Last updated Saturday 3rd August 2002
---
Description
A very small program that brings up a menu of all files that are currently open, allowing the user to close any or all of them.
Author
Latest version
1.11 (11th August 2001) / 1.20 (22nd January 2001)
Changes since last release
Menu now ignores ADJUST-clicks on the rest of screen, and closes (1.11).
Also available as an application that sits on the iconbar (1.20).
---
Description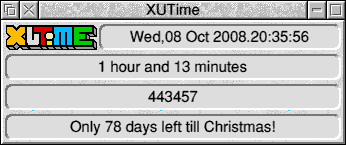 XUTime is a tiny WIMP experimental program of doubtful use. It is an amalgam of two command line BASIC programs: XmasTime (by Martin) and Uptime (by Chris). It also shows the current date and time, as well as the 'uptime' in raw (centisecond) format. Because the latter has to be updated very frequently, it chews up processor time and is therefore optional. This application is mainly useful as a more accessible way of using Uptime.
Author
Martin and Christopher Bazley
Latest version
Release 3 (17th October 2008)
Changes since last release
Fixed a couple of redraw oddities.
Added interactive help.
---
---